Record your family history in GNU/Linux
Genealogy is one of the most univeral of hobbies. People of all walks of life use the exploration of their family tree to connect with a personal history. This exploration can quickly create mountains of data, and that inspired the creation of specialized computer programs to aid in the recording and presentation of genealogical data. Under the Windows platform there are several competeing tools, such as Legacy and Family Tree Maker, but as we will see, there is no need to feel left out if you choose to use Linux.
GRAMPS
the Genealogical Research and Analysis Management Programming System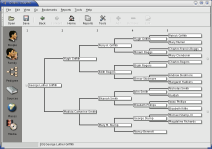 The full name is complicated, but the program is simple to use. Even if you've never before heard terms like ahnentafel, you can be recording and organizing your data in minutes. GRAMPS includes a wide array of features that appeal to the novice, the expert as well as the casual observer:
individual, family and pedigree views
attach media objects to people, places, events, and sources
GEDCOM import/export
wide variety of reports
relationship calculator
Soundex codes
Web publishing options
customized filtering
database consistency checking
Installation
GRAMPS has dependencies on several Gnome and Python libraries, so it will be much easier to use your distributions package management facilities to simplify the installation. The download page includes notes on any special requirements for a wide variety of distributions.
Genealogy to Go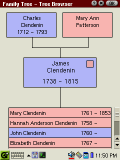 If you use a Qtopia based handheld, such as a Sharp Zaurus, check out Jimmy Cederholm's FamilyTree, available on handango.com. This handy tool can import GEDCOM files and makes it convenient to take your research with you into the field, or even to Aunt Millie's dining room. It is a commercial offering, but is modestly priced and a free trial is available.
Good luck, and have fun shaking the family tree!