Power search the Web in GNU/Linux
MS Windows users of Internet Explorer have for some time had an extra benefit when searching the web, the powerful and convenient Google Toolbar. Unfortunately, Google only provides this tool for that one specific environment, leaving out those who choose other browsers and other platforms. The open source spirit of course has come to the rescue, as users of Mozilla, or its streamlined cousin Firefox, can boost their searching productivity with the Mozilla Googlebar project.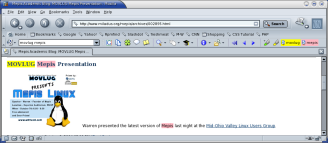 Googlebar - an open source alternative
Mozilla has had built in search capabilities available for some time, but the Googlebar packs an advanced toolset into a small slice of screen real estate. Features include instant access to normal and specialty searches, in-page search term highlighting and locating, search result set navigation, and more. And the only features of the original Google Toolbar you'll find missing are popup blocking, which is already built in to the Mozilla line, and page rank, that depends on a proprietary protocol which the developers could not include.
Installation and Troubleshooting
Googlebar is supplied as a "zippie," the XPInstall format used by the Mozilla family of browsers. Installation can be as simple as a click on the install link at http://googlebar.mozdev.org/installation.html. The supplied XPI's should work with any recent Mozilla or Firefox release. Special versions to address specific compatibilities with the latest releases are often available. If you have problems or questions, there tips and answers for a variety of situations in the online help pages.
Good luck in your searches!