Podcasting
What you will need for this bite-sized example
a nested and networked dyne:bolic 1.4.1 system
Kenward Bradley's Podcastamatic perl script
Chris Nandor's MP3-Info perl module
something to say
Overview
Podcasting is one of today's hot media fads. Although the term is new, the technologies underneath are the well proven mp3 and http, with a dash of xml and rss to tie it all together. It shouldn't be much of a surprise that dyne:bolic has the tools to be both a production studio and a server platform for podcasting.
Prepare Your Audio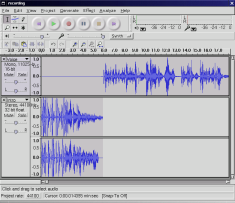 There are many tools available in dyne:bolic to create and manipulate audio. Audacity is a solid general purpose editing environment, and can easily handle the large audio files common in podcasting. Its recording function can be used to capture audio tracks from mic or line inputs. Adding tracks to your project makes it easy to spice up your presentation with intro music, transition effects, and even commentary voice overs.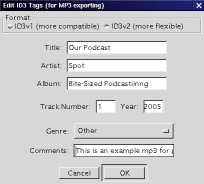 When you are satisfied with your audio program, export it as an mp3. The export process allows you to enter ID3 tags that will be included in the mp3 file. Setting the ID3 tags appropriately is an important step. Not only will these be visible to anyone using your podcast, the tags are used by the automated tools we will use to build our web page and rss feed.
Publish Your Podcasts
Setup a Podcast Directory for Boa
dyne:bolic includes a preconfigured web server called Boa. We will need to set up a place in the Boa server tree for our podcasts. By default, the root of the web server is the Linux directory /var/boa/htdocs so we can add a directory for our podcasts with this command from an xterm shell prompt:
mkdir /var/boa/htdocs/pod
Now copy your podcast ready mp3 file(s) to the new pod directory.
Install Podcastamatic
You can publish your podcast by hand, but it very easy to automate this tedious task. As mentioned above, you will need to get Kenward Bradley's Podcastamatic perl script, as well as Chris Nandor's MP3-Info perl module for this step.
To make this easy, we will install this software into your d:b nest. The process is a little different than what is documented in the packages. Download podcastamatic1_2.zip and MP3-Info-1.13.tar.gz to your nested /home directory. These commands will install podcastamatic:
unzip podcastamatic1_2.zip
cd podcastamatic1_2
tar xvzf ../MP3-Info-1.12.tar.gz MP3-Info-1.12/Info.pm
mv MP3-Info-1.12 MP3
chmod +x podcastamatic.pl

Podcastamatic is now installed. For the curious, we made a quick and dirty install of the MP3-Info module since we don't have everything needed in d:b to install it in the traditional way. The perl libraries are normally installed in areas that are read-only in the d:b system, and we don't have some of the tools, like make, that are part of the normal install.
We still need to configure things for our d:b system. Use your favorite editor to edit the file podcastamatic.conf to reflect a Web Side path of http://your_host_name/pod/ and a Server Side path of /var/boa/htdocs/pod/. Make sure to catch all the references, there are several:

Link http://your_host_name/pod/
AudioPathServerSide /var/boa/htdocs/pod/*.mp3
AudioPathWebSide http://your_host_name/pod/
HTMLServerSide /var/boa/htdocs/pod/index.html
XMLServerSide /var/boa/htdocs/pod/rss.xml
XMLWebSide http://your_host_name/pod/rss.xml

After saving the changed podcastamatic.conf file, you can run the script with the command podcastamatic.pl as shown here:

[d:b] ~/podcastamatic1_2 #./podcastamatic.pl
Podcastamatic v1.2

Reading configuration file "podcastamatic.conf" ...
iTunes specific tag support is OFF.
 Done.
Looking for audio files...
   Found /var/boa/htdocs/pod/recording.mp3
   1 audio files were found.
Building XML file "/var/boa/htdocs/pod/rss.xml"
   Adding "Example Podcast Recording"
   XML file is done.
Building automatic HTML file "/var/boa/htdocs/pod/index.html"
   Adding "Example Podcast Recording"
   Automatic HTML file has been created.
Note: No template driven HTML file to be generated per config file.

Your d:b system is now serving up your Podcast, complete with the rss feed that will allow others to subscribe to your podcast. You can add and remove mp3 podcast files in the pod directory at any time, and rerun the podcastamatic script to update the index.html and rss.xml files to reflect the changes. Podcastamatic also offers several options you may want to explore to make the generated page match your own style, and customize what information is displayed.
Now you've got power. Go create something wonderful!