Knoppix 3.3
If you like the idea of taking your software with you instead of the whole computer, Knoppix is an excellent choice for general purpose use. Since it is a live CD, there are a few basics to keep in mind. Ample memory is important. A lot of things that would normally come from disk have to be kept in memory, and unlike a traditional Linux install, there won't necessarily be a swap partition available. If the hosting machine has less than 128 MB of ram, don't expect things to go smoothly. Also, since everything comes off a compressed filesystem stored on the CD, the system responsiveness will vary greatly with CPU horsepower and CD access speed. Don't expect miracles out of a P75 with a 4X drive, but a modest 400MHz PII with a 48X drive will be quite workable. Oh, and of course you need to be able to boot from a CD, or in a pinch, you can make a boot floppy.
OK, on to the good stuff. Drop in the CD and reboot. In a short time you will be at the 'boot:' prompt. You can influence a lot of things by passing extra parameters that in Knoppix-speak are known as Cheat Codes . Don't fret over this. The first time through, just hit enter. Once you get the hang of it, there are a few basic codes you might want to know. Knoppix has a tendency to pick lower resolutions on hardware that can support higher ones. The screen=1024x768 cheat code, or similar, can fix this. The myconfig=scan code will use a previously saved configuration, while home=scan will use a previously saved persistent home directory image. If you are a patient type, the testcd code verifies the CD contents are not corrupted. To use the Cheat Codes just type the line like this following the boot prompt:
knoppix screen=1024x768 myconfig=scan
Once you pass the boot prompt, you are treated to a colorful set of messages informing you of the progress of booting and a little progress indicator zips by proclaiming autoconfiguring devices. The autodetection does a very admirable job, producing a very usable system with no questions or tweaks. Experience has shown sound cards to be slightly hit or miss with a variety of machines, but most things will 'just work.' One error message which throws a lot of people is 'Error: only one processor found' Rest assured that one is enough to use Knoppix.
As to hardware compatibility, here is a little personal anecdote, just to reinforce how well it works. The host machine was a fairly recent e-machine running XP home. The add-in Siemens wireless pci card wasn't recognized by XP, and it complained bitterly about the drivers it was given not being signed. It took persistence to get it stable, as it 'forgot' the new card several times at first. Knoppix, on the other hand, found it, configured it, and was talking on the net before I could check on it. Sweet, but of course, your mileage may vary.
After the configuration completes, the system should boot straight into a KDE desktop, and a glorious one at that. It is dripping with the KDE eye candy like translucent menus and the non-straight edged Keramik window theme. There is a wealth of software available, too. It is actually quite amazing how much can fit in a single CD, and it isn't even just one from each category. For example, if you've experienced an 'emacs vs. vi' war, you'll be pleased to find both are available, along with many other editors, even ones without their own alt.religion newsgroups. About the only thing missing is gnome, and if that is what you want, check out Gnoppix instead.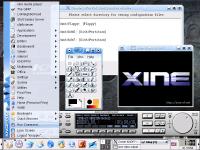 Knoppix in action. Click for a larger version.
All of the disk partitions of the host machine should be available for easy access from the desktop. Simply clicking on a drive icon mounts it in read only mode, and launches the konqueror file manager view. This works for all windows partitions, both the older FAT variety, from DOS and Windows 9x systems, and the newer NTFS ones found on NT, 2K and XP systems. If you want to be able to write to a partition, you can right click it on the desktop and select the change read write option. This won't work for NTFS, but will for any other types, including Linux partitions. LinNeighborhood is available to assist in using remote SMB shares, too.
With options on the KNOPPIX menu, configuration data and a home directory can be saved to any writable media, such as floppy or disk drive partition, including options such as a USB thumb drive. (Of course a floppy based home directory is a little bit limiting, but a config file can be handy if the defaults are not satisfactory.)
Once you start using Knoppix, it is hard to not find uses for it. With that much power, imagination is the only limit, but here are a few ideas to give you the idea.
The most obvious it to bring a Linux machine into places where it might be difficult to do otherwise, like the company supplied box, a publicly accessible machine, or your roommate's computer. Once you boot with your CD, you know you don't have a worm or virus, no software spyware, just a known good system. Maybe you want to 'dd' a drive image, run a perl script, edit a file in gimp, check a webmail account without leaving the cache behind or any of hundreds of other things without leaving permanent foot prints.
Test drive hardware to make sure it is Linux compatible. If you are ready to plunk down your hard earned cash on a new box, if the salesman can't let you boot from your own CD before closing the deal, you might want to take your cash elsewhere. If the hardware works in Knoppix, it will work in any other recent distro, at least with some tweaking. You'll also hear people mention looking to "see how Knoppix does it" as a way to set up peripherals on dedicated Linux boxes.
A web designer's companion. You hear thin excuses about how hard or expensive it is to test for those 'other' browsers as the reason sucky web pages only work on MSIE. Booting Knoppix isn't hard or expensive, and it gives access to no fewer than 4 browsers including Mozilla, Konqueror, Lynx and ELinks.
Share drives without making permanent changes. It is nearly effortless to start Samba and share things over your LAN, just pick it off the menu, and you have an instant file server. Shutdown, and its all back the way it was.
Set up an array of VNC viewers to display training or other demos. Setup a VNC server on one machine, and point your army of Knoppix VNC viewers at it. Voila, the army displays follow your every move.
Rescue data the host system can't reach. Here's a true story from the personal anecdote archive again, there was an XP box with a failing hard drive, that wouldn't boot, or be accepted as a valid drive when configured as a slave. The drive held the only copies of a number of the owners personal digital pictures, things like the important events in their kids lives, as well as documents pertaining to a small business venture. In examining the system, it was discovered that in the proper orientation, the mechanical problem with the drive smoothed out after time, making the data accessible. Since knoppix was happy mounting the local drive long after the reset that sent the drive into a spasm, it could easily read the data XP couldn't.
Oh, and if you have that perfect idea, but find that you need something that doesn't come with Knoppix, you can make your very own Knoppix Remix. Since it is based on Debian, there should be no shortage of material.
Conclusion
A solid 2-paws-up rating!